For a complete list of Key Communicators, click here.


2017 Key Communicator Award
Sponsored by
Texas House Education Chair Dan Huberty named TSPRA's 2017 Key Communicator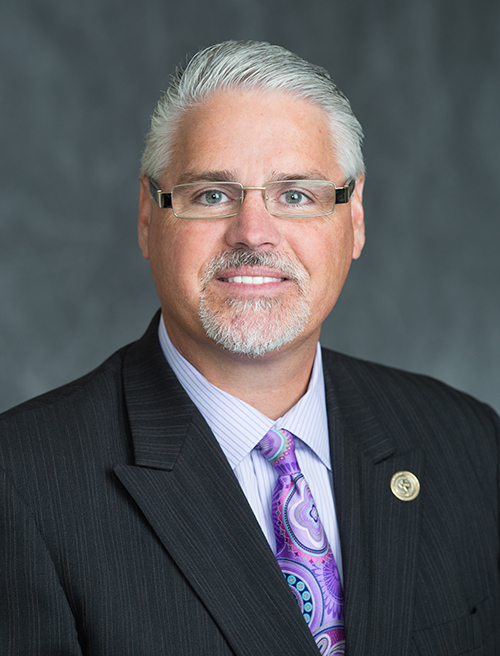 The Texas School Public Relations Association (TSPRA) has named Dan Huberty, Texas state representative and chair of the House Public Education Committee, as the recipient of the association's 2017 Key Communicator Award. Huberty receives the award in recognition of his work to improve and defend the public education system in Texas.
Huberty will receive his award, sponsored by West (SchoolMessenger solutions), from TSPRA President Melissa Tortorici at the 2017 Texas Association of School Administrators/Texas Association of School Boards Convention, to be held in Dallas from October 6-8, 2017.
"Rep. Huberty has proven to be a consistent defender of public schools and Texas students during his seven years in the Legislature," said Tortorici. "His work to overhaul school finance, improve ratings systems and stand against vouchers makes him a worthy recipient of TSPRA's highest award."
Huberty has represented District 127, northeast of Houston in and around Humble, in the Texas House of Representatives since 2011. During his career in the Legislature he has served on the Public Education, State Affairs, Calendars and Pensions committees, as well as a Select Committee on Redistricting and a Select Committee on Transportation Funding, Expenditures & Finance.
He was appointed chair of the House Public Education Committee in 2017, replacing the retired Rep. Jimmie Don Aycock, TSPRA's 2015 Key Communicator.
"Chairman Huberty showed true support for public education this session by authoring legislation that would have added nearly $2 billion to Texas public schools and taken steps to reform the school finance system," said Alamo Heights ISD superintendent Kevin Brown. "Texas Monthly magazine named him one of this session's best legislators, calling his efforts to reform school finance 'impressive.'"
In addition to his school finance reform efforts, Huberty emerged from the session as an outspoken opponent of any voucher proposal to divert public school monies to pay for students to attend private schools, breaking with some members of his own party in the process.
"Huberty never blinked despite the pressure put on him from our Governor, Lieutenant Governor, members of the Senate and outside forces that have a tremendous impact on policy makers," said Alief ISD Superintendent HD Chambers. "He stayed true in keeping the best interest of all students in the state of Texas as his priority, not just a select few students that would attend schools in private school or for-profit charter schools."
Prior to his election to the Texas House, Huberty served on the Humble ISD Board of Trustees for five years, including as Board President in his last year on the board. Huberty currently serves as president of MVP REIT, a real estate investment trust. In 2011, Texas Monthly named him the Legislature's Rookie of the Year.
"Representative Huberty is, by far, the most collaborative leader I have ever experienced," said Guy Sconzo, Executive Director of the Fast Growth School Coalition and former Humble ISD superintendent. "He consistently goes well beyond what I would consider reasonable in assuring that all diverse voices are a part of any deliberation affecting them…. He spent countless hours reaching out and engaging school practitioners at all levels, school finance experts, legal experts and association representatives to develop a proposal (HB 21) that garnered unanimous support from the public education community."
Since 1981, TSPRA has recognized a Key Communicator for outstanding contributions to public education through effective communications. The recipient may be a legislator, educator or a professional in another field who has improved school communications, or a member of TSPRA who has contributed outstanding service to the profession of school communications. Recipients have included leaders from business, media, PTA, politics and education. A complete list of past recipients can be found on TSPRA's website at www.tspra.org/awards/key-communicator/list-of-key-communicators
West (SchoolMessenger solutions) is the sponsor of the Key Communicator Award.
West (SchoolMessenger solutions) is a strong supporter and valuable tool for school districts throughout Texas, and TASA/TASB conference attendees are encouraged to visit their booth at the Kay Bailey Hutchison Convention Center Dallas in October.
Ronnie Zamora of Los Fresnos CISD chairs TSPRA's 2017 Professional Awards Committee, which includes Denise Blanchard, Amarillo ISD; Patti Pawlik-Perales, Alamo Heights ISD; Marco Alvarado, Lake Travis ISD; Leisha Bryant, Nacogdoches ISD, Holly Fuller, Decatur ISD and Mike Rockwood, Lamar CISD.