For a complete list of Key Communicators, click here.


2016 Key Communicator Award
Sponsored by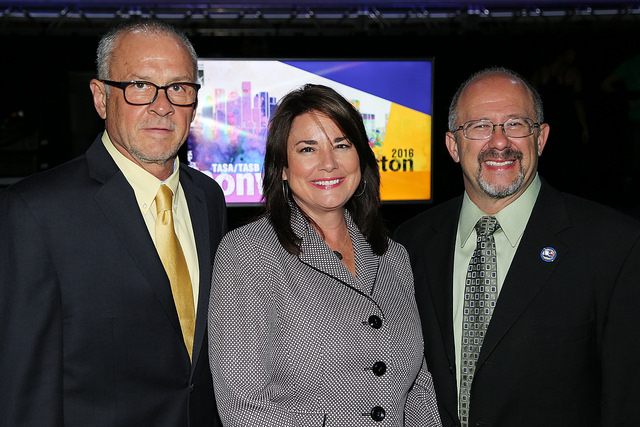 SchoolMessenger's Jim Duggan, 2016 Key Communicator Shanna Peeples, and TSPRA President Ian Halperin at the 2016 TASA/TASB Convention in Houston.
National Teacher of the Year Shanna Peeples named TSPRA's 2016 Key Communicator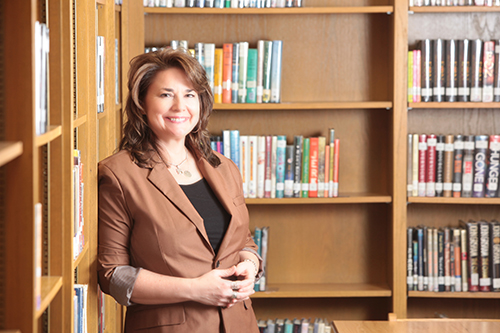 The Texas School Public Relations Association (TSPRA) has named Shanna Peeples, the 2015 National Teacher of the Year, as the recipient of the association's 2016 Key Communicator Award. Peeples receives the award in recognition of her efforts as an ambassador for public educators throughout the country during the past year.
Peeples will receive her award, sponsored by SchoolMessenger, from TSPRA President Ian Halperin at the 2016 Texas Association of School Administrators/Texas Association of School Boards Convention, to be held in Houston from September 23-25, 2016.
"Shanna is an exceptionally qualified recipient for TSPRA's highest honor," said Halperin. "She has been a champion for public education not just in Texas, but across the globe."
As an English teacher and instructional coach at Palo Duro High School in Amarillo, Peeples taught a wide range of students, from AP classes during the school day to those at-risk of dropping out during the school's evening credit recovery program. She worked with English language learners with backgrounds in 27 different languages. "She seems to have an innate ability to understand where her students come from, their personal stories and cultural history, and makes that a part of how she advocates for them," said Viet Tran, one of her former students.
Those experiences helped shape her message as an ambassador and advocate for teachers during her tenure as the nation's top teacher.
"Ms. Peeples has not only used her year as the nation's top teacher to talk about the positive," said Texas Association of School Administrators executive director Johnny Veselka, "she has also worked hard to shape the national conversation about reaching students in poverty and those who have faced other extreme challenges. At every opportunity, whether it was a one-on-one interview with a reporter or a speech to a ballroom full of people, she shined the light on these challenges facing public schools and on the importance of public education."
As National Teacher of the Year, Peeples traveled more than 200,000 miles, spoke in 27 states and five countries, delivering more than 300 speeches on public education and her experiences teaching students living in poverty or new to the country.
"We simply cannot think of another teacher in this city, in this state or in this country who has done more work to communicate the good work of educators than Shanna has in the past year," said Chris Hays, CEO of Panhandle PBS, who featured Shanna in an episode of the station's newsmagazine, Live Here, in November. "She shared her experiences as National Teacher of the Year and discussed the diversity of her students and the effects of poverty upon them." A portion of the episode was translated and shared with educators in Shandong Province, China.
Peeples' efforts have won her recognition from across the nation. She is a 2016 National Education Association Global Learning Fellow, a member of the Global Teacher Prize Academy, Scholastic's National Advisory Panel and the U.S. Presidential Scholar Blue Ribbon panel. She received Texas A&M University's Outstanding Educator Award and the Texas State Teachers Assocation's Instructional Advocacy Award.
"In my role as a Texas State Representative, I meet many exceptional individuals all over our great state," said Texas State Representative Four Price, "Shanna Peeples is a standout. She possesses great communication skills and characteristics that I know will continue to serve her and her profession well."
Before becoming a teacher, Peeples worked as a reporter for the Amarillo Globe-News. She earned her bachelor's degree in at West Texas A&M University and a master's degree in education from the University of Texas at Arlington.
Since 1981, TSPRA has recognized a Key Communicator for outstanding contributions to public education through effective communications. The recipient may be a legislator, educator or a professional in another field who has improved school communications, or a member of TSPRA who has contributed outstanding service to the profession of school communications. Recipients have included leaders from business, media, PTA, politics and education. A complete list of past recipients can be found on TSPRA's website at www.tspra.org/awards/key-communicator/list-of-key-communicators
SchoolMessenger is the sponsor of the Key Communicator Award sponsor. SchoolMessenger is a strong supporter and valuable tool for school districts throughout Texas, and TASA/TASB conference attendees are encouraged to visit their booth at the Austin Convention Center in September.
Charlotte LaGrone of Weatherford ISD chairs TSPRA's 2016 Professional Awards Committee, which includes Julie Zwahr, Denton ISD; Patti Pawlik-Perales, Alamo Heights ISD; Andy Penney, Frenship ISD; Suzi Pagel, Midway ISD Education Foundation and Allison Lewallyn, Mesquite ISD.