For a complete list of Key Communicators click here.


2015 Key Communicator Award
Sponsored by
Texas House Education Chair Jimmie Don Aycock named TSPRA's 2015 Key Communicator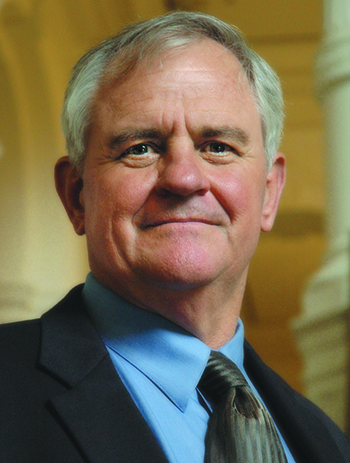 The Texas School Public Relations Association (TSPRA) has named Jimmie Don Aycock, Texas state representative and chair of the House Public Education Committee, as the recipient of the association's 2015 Key Communicator Award. Aycock receives the award in recognition of his decade's worth of work in the Legislature to improve and defend the Texas public education system.
Aycock will receive his award, sponsored by SchoolMessenger, from TSPRA President Lorette Williams at the 2015 Texas Association of School Administrators/Texas Association of School Boards Convention, to be held in Austin from October 2 through 4, 2015.
"The Key Communicator Award is the most prestigious honor bestowed by TSPRA," said Williams. "Representative Aycock's record as a champion of public education in the Texas House of Representatives makes him a deserving recipient of this award."
Aycock represented District 54 in the Texas House of Representatives from 2006 until his retirement at the end of the 2015 Legislative Session. During his legislative career he served on the Culture, Recreation and Tourism; Agriculture and Livestock; Defense and Veterans' Affairs; Higher Education, and Redistricting committees and most notably as chair of the Public Education Committee during the 2013 and 2015 sessions.
As chair, Aycock shepherded House Bill 5 through the 2013 session, significantly reducing end of course testing for Texas students and creating more paths to graduation for Texas students.
"Chairman Aycock is highly respected by his peers in the Legislature as well as by those of us who advocate on behalf of Texas public school districts and students," said Amy T. Beneski, associate executive director with the Texas Association of School Administrators. "As a former member of the Killeen ISD Board of Trustees, he understands that to effect good policy for Texas students, one must listen to the professionals who have dedicated their lives to educating those students — teachers, principals, superintendents and other educators."
In 2015, Aycock proposed legislation that would have added $800 million from general revenue to the $2.2 billion in the House's original budget proposal. Though he pulled that bill from the floor in the face of apathy from the State Senate, his efforts helped kick start a conversation about repairing the state's school finance system that many predicted would never happen before the Texas Supreme Court ruled on the state's latest school finance case.
"His bravery in attempting to address school accountability, school turnaround measures and school finance in one session will not soon be forgotten," said James B. Crow, executive director of the Texas Association of School Boards.
Throughout his tenure in the Legislature, Aycock has been a vocal defender of Texas students and teachers, celebrating the good news of public education while highlighting the challenges educators face in keeping standards high. His belief in a system that serves Texas' 5.2 million students has made him a consistent opponent of efforts by lawmakers to introduce private school voucher systems to the state.
"His vision of a Texas that is concerned about its citizens, fair in its dealings, and efficient and equitable is laudable. As a visionary leader Representative Aycock may have no equal in the Capitol," said Barry Haenisch, executive director of the Texas Association of Community Schools.
Aycock's lengthy record of public service in and around his home in Bell County includes service on the Killeen ISD Board of Trustees, the Central Texas College Board of Trustees, the Comanche Hills Utility District and Greater Killeen Chamber of Commerce. He received a Doctor of Veterinary Medicine Degree from Texas A&M University in 1970 before serving as a captain in the U.S. Army until 1972.
Since 1981, TSPRA has recognized a Key Communicator for outstanding contributions to public education through effective communications. The recipient may be a legislator, educator or a professional in another field who has improved school communications, or a member of TSPRA who has contributed outstanding service to the profession of school communications. Recipients have included leaders from business, media, PTA, politics and education. A complete list of past recipients can be found on TSPRA's website at www.tspra.org/awards/key-communicator/list-of-key-communicators.
For the fifth consecutive year, SchoolMessenger is serving as the Key Communicator Award sponsor. SchoolMessenger is a strong supporter and valuable tool for school districts throughout Texas, and TASA/TASB conference attendees are encouraged to visit their booth at the Austin Convention Center in October.
Veronica Castillon of Laredo ISD chairs TSPRA's 2015 Professional Awards Committee, which includes Tim Carroll, Allen ISD; Steve Valdez, Weslaco ISD; Rachel Frost, Terrell ISD; Erin Kleinecke, Willis ISD and Marco Alvarado, Lake Travis ISD.