For a complete list of Key Communicators click here.
Dr. Cathy Bryce named TSPRA's Key Communicator for 2008

The Texas School Public Relations Association (TSPRA) Professional Awards Committee has chosen Highland Park ISD Superintendent Dr. Cathy Bryce as the association's 2008 Key Communicator. The Key Communicator Award recognizes Dr. Bryce's outstanding contributions to public education through effective communications.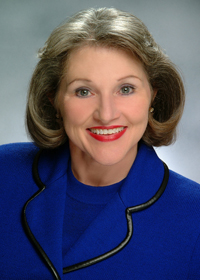 The selection committee noted that Dr. Bryce's educational career is solidly grounded in her conviction that all children deserve an outstanding education. While serving as the superintendent of one of the highest-performing public school districts for the past seven years, Dr. Bryce stays focused on the big picture and never loses sight of what is best for Texas: preparing all of its school children to become productive, responsible citizens who have the education and training necessary to compete in the 21st century workplace.

Dr. Bryce currently serves as a member of the Texas Association of School Administrators (TASA) Legislative Committee and numerous Texas Education Agency advisory committees. In 2000, the American Association of School Administrators named Dr. Bryce Texas Superintendent of the Year. Also in 2000, she served as secretary, treasurer and board member of the Equity Center, an organization devoted to ensuring an equal education for all children in Texas. During her 33 year educational career, Dr. Bryce has served as a vice principal, principal, assistant superintendent, deputy superintendent and superintendent in districts across north Texas, including Birdville, Lewisville, Carroll, Duncanville and Weatherford.

Commenting on Dr. Bryce's dedication, State Senator Florence Shapiro said, "It would be difficult to find an educator who has performed the array of professional tasks within the field of education that Dr. Bryce has achieved. As Chair of the Senate Committee on Education, working with Dr. Bryce on a variety of public education issues has been a great resource for me in crafting education policy for the state."

In his letter of support, State Representative Rob Eissler noted, "Dr. Bryce has been involved professionally and in the community in many organizations on both the state and national levels that benefit all public school children. I admire her dedication and advocacy for Texas children and improving the state's education system."

Former Texas Commissioner of Education Mike Moses, who was the recipient of the Key Communicator Award in 1998, remarked, "Dr. Bryce is an outstanding advocate for public schools and has the ability to dialogue with any audience about the successes as well as the needs of public education, a strong indicator of a key communicator."

Dr. Bryce will receive the Key Communicator Award at the Second General Session of the TASA/TASB Annual Convention at 10:30 a.m. on Saturday morning, September 27, 2008 in the Dallas Convention Center.

Since 1981, TSPRA has recognized a Key Communicator for outstanding contributions to public education through effective communications. The recipient may be a legislator, educator or a professional in another field who has improved school communications; or a member of TPSRA who has contributed outstanding service to the profession of school communications. Recipients have included leaders from business, media, PTA, politics and education. Some past winners include: Carolyn Boyle, former Coordinator of the Texas Coalition for Public Schools; Jack Christie, former Chairman, State Board of Education; Leslie and Scott Milder, Friends of Texas Public Schools; David Thompson. Attorney, Bracewell and Giuliani; and Annell Todd, Publisher Emeritus, Texas School Business and former TSPRA Executive Director

Sharon Schwartz of Burnet ISD, chaired the 2008 Professional Awards selection committee, which includes: Candace Ahlfinger, Pasadena ISD; Carla Coleman, North Lamar ISD; Celia Longoria, San Benito CISD; Lynda Queen, Region 16 ESC-Amarillo; and Melissa Starnater, DeSoto ISD.