For a complete list of Key Communicators click here.

Leslie and Scott Milder, founders of Friends of Texas Public Schools,
receive TSPRA's 2007 Key Communicator Award

Since 1981, the Texas School Public Relations Association (TSPRA) has named a Key Communicator for significant contributions to the field of school communications and public relations. The 2007 Key Communicators are Leslie and Scott Milder,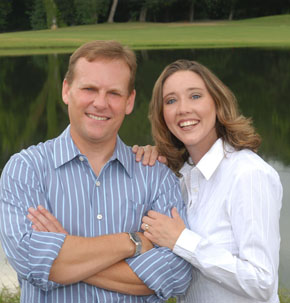 the founders of Friends of Texas Public Schools (FOTPS).

"TSPRA is proud to honor the Milders," said Christy Willman, TSPRA President. "Through their communications efforts, they are re-focusing Texans on the great work that the state's public schools are doing."

The Milders, in 2004, started Friends of Texas of Public Schools, a 501(c)(3) non-profit organization, because they saw the need for an organization to communicate all the good that happens in Texas public schools. Leslie, a former Texas public school teacher, and Scott, Vice President for Communication for SHW Group, Inc., a school architectural firm, were tired of the negative news stories and wrong information about Texas public schools. They knew the truth. And, they wanted
to help.

Willman added, "This couple believed in a dream and worked to turn their dream into a reality. The reason why Leslie and Scott have been successful is because they believe in public education but also they know how to rally everyone together."

In three years, the Midlers have formed a 501(c)(3) and established a board of state-wide membership. FOTPS has garnered financial support of businesses, associations, school districts, non-profits and individuals. Leslie and Scott have spoken to many groups across the state spreading the positive message about Texas education.

FOTPS has had billboards across Texas for three years and billboards in Dallas Area Rapid Transit (train) stops. FOTPS has a website that promotes the truth about Texas public schools. FOTPS launched in 2005 the first statewide poll opinion to gauge public opinion on the reputation of Texas public schools and repeated it twice to create a reputational benchmark.

A TSPRA Key Communicator recipient may be an educator, legislator or professional in another field who has improved school communications, or a TSPRA member who has contributed outstanding service to the profession of school communications. Past winners include leaders from business, media, PTA, politics and education.

Cindy Randle, Carrollton-Farmers Branch ISD, served as the chair of the TSPRA 2007 Professional Awards Nominating Committee.