For a complete list of Key Communicators click here.

TSPRA Names Wichita Falls Superintendent Dawson Orr
the Association's 2005 Key Communicator

Dr. Dawson Orr, superintendent of schools for Wichita Falls ISD, was named as the 2005 Key Communicator by the Texas School Public Relations Association (TSPRA).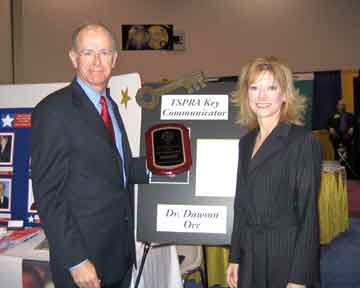 TSPRA President Candace Ahlfinger presented Orr with the award at the TASA/TASB Convention in Dallas. This prestigious award recognizes an individual who has contributed significantly to public school communications.
To be selected by TSPRA is an honor of which I am most appreciative. Orr said. Orr is a veteran in education and is described as a courageous leader who exemplifies the consummate professional educator a nd communicator. Orr united state organizations to form the Coalition to Invest in Texas Schools, which was established to promote and ensure educational excellence for all Texas public school students, and improve school funding. He served as president of the Texas Association of School Administrators (TASA) in 2003. Orr also served as the chairman of the TASA Legislative Committee from 2001-2005. While testifying during legislative sessions on school finance issues, Orr worked to improve funding for all public schools. "Articulating the needs of Texas schools and communities for adequacy, equity, and funding capacity is a responsibility that I have gladly embraced," Orr said. In addition, Orr has led collaborative education related press conferences and has worked with the news media across the state to promote Texas public schools by giving them a voice to be heard statewide.
"The needs of Texas school children are critically important. All who are concerned about the future of our great state have a n affirmative responsibility to communicate those needs," Orr said.
Since 1981, TSPRA has recognized a Key Communicator for outstanding contributions to public education through effective communications. The recipient may be a legislator, educator or professional in another field who has improved school communications; or a member of TSPRA who has contributed outstanding service to the profession of school communications. Recipients have included leaders from business, media, PTA, politics and education. Some past winners are: attorney and former SBOE Member Will Davis; Linus Wright, former Under Secretary of Education and Dallas ISD Superintendent; Jack Christie, past chairman of the SBOE; former Texas State Rep. Paul Sadler; Annell Todd, Texas School Business Magazine publisher; Carolyn Boyle, coordinator for the Texas Coalition for Public Schools; and John Stevens, executive director of the Texas Business and Education Coalition.

Staci Stanfield, Galena Park ISD, chaired the 2005 Professional Awards selection committee which included: Bill Britcher, Leander ISD; Shirley Brothers, Alvin ISD; Kirk Lew is, Pasadena ISD; Kris Taylor, Katy ISD and Katherine Oates Erickson of Tyler.