The chair of TSPRA's 2013-2014 Professional Awards Committee is Ian Halperin, Wylie ISD. Other committee members include Candace Ahlfinger, Richardson ISD; Celina Bley, Del Valle ISD; Angela Shelley, Carrollton-Farmers Branch ISD; Brian Morris, Lubbock ISD and Steve Valdez, Weslaco ISD.
2014 Professional Achievement Award: SHARON COX
Professional Achievement Award winner Sharon Cox.

"Sharon constantly remains a top advocate for students. She has received numerous awards for her service and dedication including: Crime Stoppers International, Unsung Hero, School Bell Award, Texas Career and Technology Award, Chamber of Commerce Woman of the Month, Sister Cities International, Kids Who Care and many others.

However, it's not the awards, but the students and PR/Journalism staffs she has mentored along the way that provide her with the passion and energy to serve kids 24-7."
---
2014 Most Valuable Member Award: HEATHER WILLDEN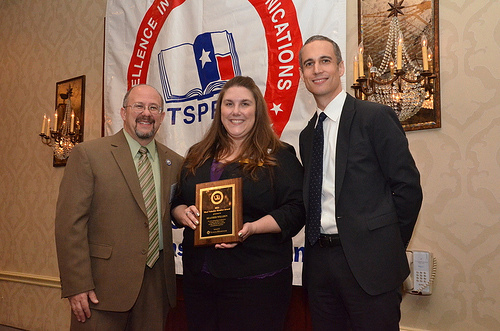 Awards chair Ian Halperin, Most Valuable Member winner Heather Willden and SchoolMessenger's Nate Brogan.

"Heather puts her money where her ideas are! She secured $10,000 over two years for the first-ever CTPS video contest. That's $10,000 to Texas Public School students!! She used her skills and the relationships that she built throughout her career in school PR to make her most recent service to TSPRA highly successful!
She has been the glue that holds the CTPS together. She has taken the reins and held on to build continuity for the organization."
---
2014 Rookie Of The Year: OLGA PENA

Awards chair Ian Halperin, Rookie of the Year Olga Pena, and TSPRA President Patti Pawlik-Perales.

"Olga has earned fans both inside the district and out. In her nomination, a district principal noted "we have been more connected and informed. Great job!"

Jennifer Marshall-Higgins at the Region 12 Service Center has this to say: "She is always ready to support her colleagues, has a great attitude and represents all characteristics of a true professional! I am thankful to have her as a friend as well as a colleague!"
---
2014 Bright Idea Award: GO PUBLIC, BEXAR COUNTY PUBLIC SCHOOLS
| | |
| --- | --- |
| Representatives of Bexar County's public school districts accept the Bright Idea Award on behalf of the Go Public campaign. | "Imagined by the county's Superintendents and fueled by the Communication's Departments, Go Public is a multi-faceted public information and awareness campaign that features television, radio and print ads, paired with a robust and aggressive social media and digital strategy, that is actively engaging the community." |
---
---
2014 Media Award:
FRANCISCO VARA-ORTA, SAN ANTONIO EXPRESS-NEWS
Dan Carter, K12 Insight and Francisco Vara-Orta, San Antonio Express-News

"Francisco's work at the Express-News has earned praise from fellow reporters and educators for its fairness, comprehensiveness and the ease with which he condenses complex education issues into stories easily understood and appreciated.

"When we have a multi-faceted story or a controversial story to tell, we can always call on him to write a comprehensive story first that fully explains the issue at hand," said Pascual Gonzalez, Executive Director of Communications at Northside ISD.

Vara-Orta has received awards for his reporting from the three largest teacher groups in the state. In 2011-2012, Vara-Orta received the Association of Texas Professional Educators' Alafair Hammett Media Award for outstanding support for and coverage of public education. In 2012-2013, he was named a recipient of the Texas Classroom Teachers Association's Silver Apple Media Award for his coverage and the Texas State Teacher Association's School Bell Award for Outstanding Feature Story. He currently serves as President of the San Antonio Association of Hispanic Journalists."