For a complete list of Chapter Award recipients click here.
The chair of TSPRA's 2012-2013 Professional Awards Committee is Larry Goddard, Ph.D., CFRE, Tyler ISD Education Foundation. Committee members include: Laura Cade, Clint ISD; Marcia Coker, Wylie ISD; Sean Hoffmann, Seguin ISD; Julie Jerome, Comal ISD and Julie Thannum, APR, Carroll ISD.
2013 Professional Achievement Award: DEBBIE RATCLIFFE
Left to right: Professional Award sponsor Mark Franke, Relatrix; Professional Award recipient Debbie Ratcliffe, Texas Education Agency; and 2012-13 President Craig Eichhorn, Alief ISD

The recipient of TSPRA's Professional Achievement Award, sponsored by Relatrix, is Debbie Ratcliffe. Debbie, a veteran member of TSPRA since 1995, has worked in communications and media with the Texas Education Agency since that same year, serving during the appointment of six education commissioners. She has lead TEA's communication division through two massive agency staff reductions, two new state assessment tests (from TAAS to TAKS and TAKS to STAAR) with two new accountability systems, through No Child Left Behind requirements, the H1N1 flu epidempic and several destructive hurricanes. Debbie has moved the agency into the 21st century with the creation of its website and more recently with the use of social media.

Debbie is highly regarded by her peers and respected by journalists across the state for her prompt, honest and straightforward answers. To help combat the negative attacks on public education and our state's school teachers, Debbie created a "Good News" website to showcase the positive things that schools and teachers do. She also helped coordinate the 150th Celebration of Texas Public Schools. In addition she has been responisble for several TEA recognition programs including Teacher of the Year, Blue Ribbon Schools, Milken Awards, Heroes for Children Award and the Employers for Education Excellence Award. Debbie has won several TSPRA Star Awards for agency publications, including TSPRA's highest award, the Platinum Award, for the TAKS Toolkit.

Prior to her service at TEA, Debbie was a reporter with the Austin American Statesman for 13 years. She is a graduate of Baylor University with a BA in education and journalism.
---
2013 Most Valuable Member Award: KAREN ADLER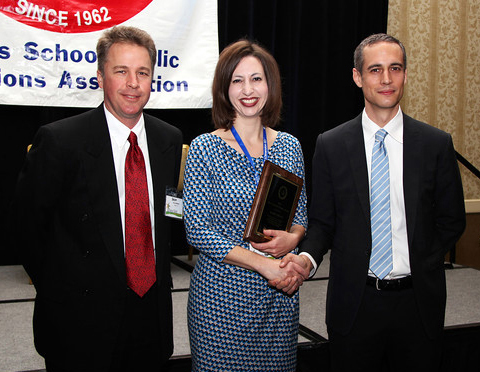 Left to right: Award Committee member Sean Hoffmann, Seguin ISD;
Most Valuable Member recipient Karen Adler; and Nate Brogan, SchoolMessenger, sponsor of the Most Valuable Member award


TSPRA's Most Valuable Member award sponsored by SchoolMessenger goes to Karen Adler, former communication specialist with Northside ISD, now working for the University of Texas System as assistant director of public affairs.
Karen earned this award for her efforts in reorganizing TSPRA's Celebrate Texas Public Schools (CTPS) campaign. She accepted the challenge to rework this long standing, state-wide project and to chair the CTPS committee for two years. The committee, with Karen's leadership, has transformed what had been primarily a resource to celebrate Texas Public Schools Week into a year long campaign including Facebook messages, tweets, a video contest and a new website. Karen and her team met monthly and their efforts have moved CTPS into the digital age.
Her skills in leadership, organization, creativity and perserverance have made a difference in helping all of us share the good news about Texas public schools.
---
2013 Rookie Of The Year: BRITTA GAMINO
Left to right: Rookie of the Year recipient Britta Gamino, Pasadena ISD and Cathy Brandewie, O'Connell Robertson, sponsor of the award

The Rookie of the Year Award, sponsored by O'Connell Robertson, goes to Britta Gamino. Starting a new job as communications assistant in Pasadena ISD wasn't enough for this new college graduate so, shortly after being hired because of her great work as an intern in the district, Britta started working on a master's degree in instuctional technology. During that first year her supervisor left for another job and Britta, with other members of the PISD communications team were called upon to handle all the end-of-year activities such as service awards, distinguished alumnus of the year, graduation and many "other duties as assigned." Rookie Britta managed her tasks with her great organizational skills, poise and graciousness. She learned, grew and kept a positive attitude in the face of a monumental amount of work.

Britta also worked with the district's videographer to learn more about that area so she could cover the position when the videographer went on maternity leave. With the videographer she developed, wrote and produced a creative promo for the PISD Education Foundation's annual Dancing with the Stars. She also covered sporting events for all five high schools and the foundation's basketball tournament.

Britta is a team player who sees what needs to be done and steps in to do it and every task is done with a smile. She is a positive role model for public schools communications professionals.
---
2013 Bright Idea Award: SAN MARCOS CISD CHILD NUTRITION DEPARTMENT
Left to right: Bright Idea Award sponsor AJ Morgan, SchoolReach;
Iris Campbell, San Marcos CISD; and 2012-13 President Craig Eichhorn, Alief ISD

TSPRA and award sponsor SchoolReach congratulate San Marcos CISD for winning the Bright Idea Award.

San Marcos CISD is at a 74% free and reduced lunches. During the summer, many of those children do not have transportation to a feeding site. Facing this challenge of how to feed hungry children during the summer, San Marcos CISD Child Nutrition Department director Mike Boone bought and outfitted a retired school bus for meal delivery to selected community sites. Painted with the district's colors of purple and white with Rattler graphics on the front and back, the "Purple Bus" soon was a vidsible and recognized sight around town.

Some seats were removed to hold coolers and hot meal insulators and an Onan generator was installed to keep the bus cool inside. The the bus was taken on the road to several areas wher Boone knew there were needy fasmilies with no transportation to the traditional campus feeding sites that are available in the summer. The bus was in inaction June, July and the first half of August 2012. During July alone, lunch counts were increased by over 2,000.

News of the Purple Bus spread and the program received great media coverage. SNCISD took city leaders, county officials and clergy on the routes which resulted in an increased awareness of the needs in the San Marcos community. Austin TV station KXAN reporters rode the bus and covered the story for the nightly news and the Texas Department of Agriculture carried the story on its "Food and Nutrition" page as a Success Story for Summer Feeding Programs. TSPRA included the story in its newsletter and the Texas Hunger Initiative asked Boone to be part of a regional hunger summit.

SMCISD's innovative solution to care for the children in their community well deserves TSPRA's Bright Idea Award. They delivered over 3,200 meals to children who needed them the most. They could sit in a cool bus on a padded seat and have mid-day meal, proving that "where there's a wheel, there's a way to feed hungry children.
---
---
2013 Media Award:
EVAN SMITH, THE TEXAS TRIBUNE
Evan Smith, The Texas Trubune

The Texas School Public Relations Association is pleased to announce the recipient of its 2013 Media Award: Texas Tribune Editor in Chief and CEO Evan Smith. The award is sponsored this year by the award, sponsored by McCreary, Veselka, Bragg, & Allen.Smith co-founded the Texas Tribune, a non-profit, non-partisan digital news organization, in 2009. Prior to that, Smith spent nearly 18 years at Texas Monthly, including eight years as editor and a year as president and editor in chief. On his watch, Texas Monthly twice won the National Magazine Award for General Excellence. Smith also gave a keynote address at the 2012 TSPRA Annual Conference in Austin.

The Texas Tribune, based in Austin, promotes civic engagement and discourse on public policy, politics, government and other matters of statewide concern. Its vision is to serve the journalism community as a source of innovation and to build the next great public media brand in the United States.

Since its founding, the Tribune has acknowledged the central role education plays in state government by providing a wealth of resources, ranging from the Public Schools Explorer database to enlightening interviews with many of the key figures who form the state's education policy. The yearly Texas Tribune Festival includes a public and higher education track that brings together instructors, administrators and elected officials to debate the issues Texas faces as it prepares its students for the future.

In its three years of operation, the Tribune has won four Edward R. Murrow Awards from the Radio Television Digital News Association, two general excellence awards from the Online News Association and a Knight-Batten award for innovations in journalism. Its deep coverage of Texas politics and public policy can be found at its website, texastribune.org; in the pages of the New York Times; and in newspapers and on TV and radio stations across the state.